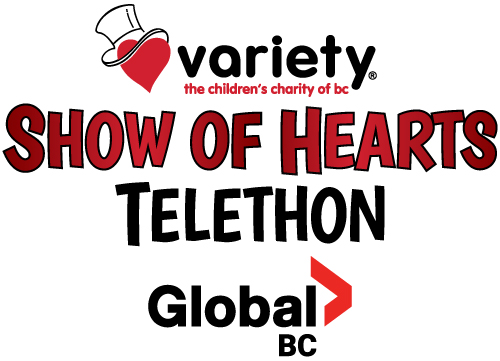 THANK YOU BC


There's still time to donate!
Variety Show of Hearts Returns to Global BC
The Variety Show of Hearts is back on Global BC to celebrate children of all abilities and to ensure that every child across the province has the brightest possible future. Launching on Global News Hour at 6 on Thursday, February 23rd, viewers will be treated to stories of hope, courage and resilience from children & families who they've helped in 2022. The inspiring stories will then continue on all of Global BC's newscasts including Global News Morning and Global News at Noon on Friday, February 24th & Saturday, February 25th.
Then be sure to circle Sunday, February 26th on your calendar when the 57th Annual Variety Show of Hearts Telethon will air from 1:00 pm to 5:30 pm. The iconic fundraising event will be hosted by Global BC's Chris Gailus, Sophie Lui, Paul Haysom, Sonia Sunger, Mark Madryga & Michael Newman, CFOX's Karen Khunkhun and Rock 101's Kiah Tucker along with Todd Talbot. Joining them will be Alvin Law, Marco Pasqua, Howard Blank & Jessica McCready as well as Variety Youth Champions, Esabella Strickland, Kaitlyn Lye and Jayden & Ashton.
Making their Show of Hearts debut will be special guests, Sarah McLachlan and Jim Cuddy, Devin Cuddy & Sam Polley. Also performing will be pop-rock singer, Fefe Dobson and Coquitlam's own Tyler Shaw.
Jim Cuddy, Devin Cuddy & Sam Polley
Help us spread the word with our Variety Show of Hearts Social Media Toolkit!
Kean is a 6-year-old boy from Chilliwack who has been diagnosed with autism, asthma, childhood apraxia of speech and a seizure disorder. He has struggled with his chronic health conditions since birth often requiring frequent medical appointments & hospitalizations, visits to the emergency room and therapy sessions. Kean is currently waiting to be tested for a sleep disorder.
Tune in to Global BC to meet more of our Variety kids like ...
from Burnaby who received a tuition bursary to attend a specialized school
from Prince George who received a psychoeducational assessment
from Victoria who received counselling
from Kelowna who received physiotherapy
Over 1,100 kids are waiting for your help!
Variety Sunshine Coaches — Over 50 years of helping kids get to where they need to be!
Since 1966, Variety Sunshine Coaches have been enhancing the lives of kids across BC. These vehicles are so much more than transportation … they provide inclusive programming that create a sense of community, belonging and security for the kids that use them every day.
One of Variety's most cherished & enduring programs, the Variety Sunshine Coach program provides transportation to organizations that provide education, recreation & therapy to BC's kids. This year, we'll be revealing our 619th Sunshine Coach!
200 New monthly donors to help 40 new Kids
With the increase in requests from families reaching out for help, Variety BC is in need of 200 new monthly donors so we can help another 40 kids. We're thrilled to announce we have several generous donors who will be matching the contributions of all new monthly donors for one year up to a total of $40,000.
Joining our Monthly Giving program is an easy way of helping kids all year long. With the support of the Variety Cares Community's monthly donors, Variety can take a planned, long-term approach to making a lasting impact in children's lives. Sign up to become a monthly donor today and you'll double your annual donation while helping 40 more kids!
This year, donors will receive Robert Bateman's Haida Spirit poster for a minimum donation of $169. Haida Spirit is a captivating depiction of the award-winning artist's visit to the Haida Gwaii where he was guided by a Haida elder to a peaceful bay where Bill Reid's canoe sat at an anchorage.
Donors will also have the opportunity to have their poster framed by GS & Company for an additional $189 + taxes & shipping with a portion donated to Variety.
*Any NEW monthly donor, those who contribute $35+/month or increase their monthly donation by any amount are also eligible to receive the poster.
During Variety Week, you were introduced to our Variety Schools Grant Program where you saw Variety working with schools across the province to bring an accessible & inclusive project to life by matching funds up to $10,000.
And now during the Show of Hearts, we'll be launching our Variety Schools Fundraising Program where schools are showing their support for BC's kids by organizing fundraising initiatives including bake sales, bottle drives & car washes!
Last year saw the loss of Variety Show of Hearts legend, Bob McGrath.
The TV icon — who quickly became a household name for his portrayal of music teacher, "Bob Johnson" on the Emmy Award-winning PBS children's series, Sesame Street — also went on to become a Show of Hearts legend making a total of 40 Telethon appearances over the past five decades.
During the 4½-hour telecast, we'll be featuring a special tribute to celebrate Bob's dedication and all that he did in support of Variety and BC's kids.
Thanks to our sponsors & supporters, you can double your donation up a total of $850,000 in matching dollars!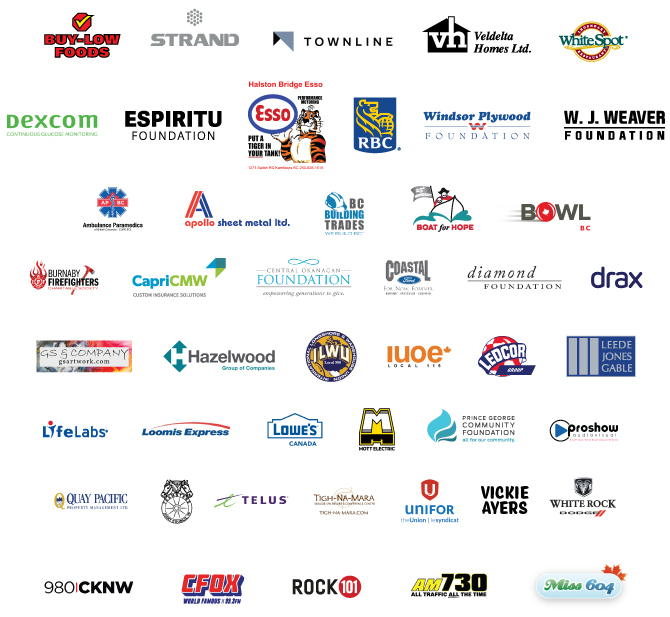 For all the details, check out our Variety Show of Hearts Telethon brochure!
Monthly donations are crucial for kids to grow so they will never see a break in funding
$105,892 raised by White Spot fundraiser
Variety Show of Hearts Raises $6,346,637 for BC's Kids