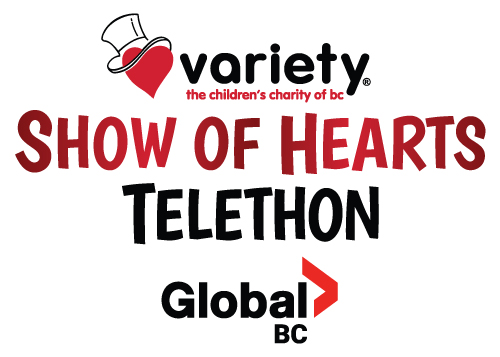 Variety Show of Hearts Raises $6,346,637 For BC's Kids
THANK YOU BC!
Variety – the Children's Charity and Global BC are pleased to announce that this year's Variety Show of Hearts raised $6,346,637 to benefit children with special needs across the province. The total celebrates a cumulation of fundraising efforts throughout the year from individual donors and corporations, community events & groups and school fundraisers.
The Show of Hearts Telethon has been an enduring legacy since its inception in 1966 and holds a dear place in the hearts of many British Columbians. Each year, Variety BC partners up with Global BC to showcase heartwarming stories and introduce you to kids and families who have been helped by Variety. And of course, a Telethon is not complete without a phenomenal line-up of entertainers.
Proceeds from the annual broadcast event have helped countless children with special needs. Donations can still be made online or by texting "KIDS" to 45678 to make an automatic $25 contribution.
$105,892 raised by White Spot fundraiser
Variety Show of Hearts Raises $6,346,637 for BC's Kids
Goodbye to a Variety BC Legend
London Drugs March Campaign
Help make a difference in the lives of BC's kids with special needs!
We believe we can achieve a lot more when we work together! Make a donation, volunteer your time, or even set up your own community fundraiser with our support!